Are penalties a necessary evil or the only way to better practices?
What does the Duty to Report mean?
A lot of the UK's largest construction companies are members of the Prompt Payment Code, administered by the Chartered Institute of Credit Management on behalf of the government. As members, they need to adhere to the fundamental principle of paying 95% of all supplier invoices within 60 days. Recently, a number of big construction companies were suspended from the PPC due to failure late payments and violation of the code. They would need to introduce a strict supplier payment processes before the next review to have their membership restored.
The legislation was introduced a couple of years ago and is designed to protect the thousands of smaller businesses that suffer from late payments, which ultimately affects cashflow and potentially trading position.
Companies who fail to comply with the 95% rule could be excluded from winning government contracts.
Starting from 1st September 2019, all suppliers bidding for government project contracts above £5m per annum will need to fill in a questionnaire including answering questions on their payment practices and performance. If they do not meet the criteria of paying 95% of their invoices within 60 days, they will be excluded from the bidding process.
Who does the legislation affect?
The law affects all companies who have any two of the following:
£36m net turnover, or
£18m balance sheet total, or
250 employees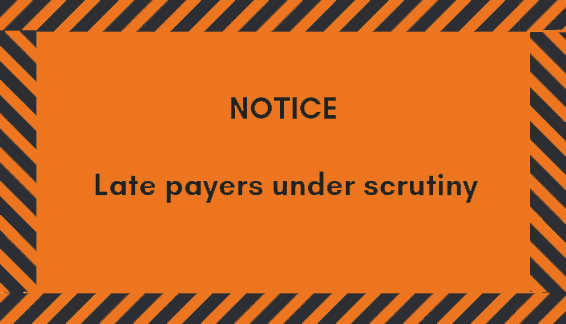 What information will you need to report?
Companies that fall into the criteria for reporting will be required to publish information, that will be available to the public, about their payment terms to suppliers and subcontractors on particular contracts, such as:
their standard and maximum payment periods
how suppliers have been notified of any payment term changes
how payment disputes are resolved
statistics showing the average number of days taken to pay
percentage of invoices paid between 1-30 days, 31-60 days and 61 days and over
the percentage of payments that were made within the contractually agreed period
How will you report the information?
Once the data has been extracted, it will then need to be inputted into the web-based government portal within the required 30 days after the reporting period.
We know from our experience in the construction sectors  that even this kind of basic financial information can be time consuming to compile, and a big pull on resources. This is why, more and more companies are looking to introduce digital tools and 'a single source of the truth' processes through all-in-one solutions including Finance and Planning management.
An effective approach to deal with late payments could include a more efficient project management:
Ensure better cost control over your projects – Record progress levels, forecasts and revenues – monitor the current period or retrieve snapshots of previous periods.  Build budgets, book actuals, generate forecasts – 4PS gives you the complete picture at every stage of the project.
Accurate planning and forecasting is the key to timely payments so you can plan ahead for upcoming expenses –  You can do a quick view using rough-cut forecasting, or a detailed cost-to-complete, generating a cash-flow statement, even or graph your progress creating S-curves.
Obtain full visibility on project progress and revenue recognition – The outcome of projects should not come as a shock to project managers. 4PS Cost Value Reconciliation (CVR) shows progress by major cost category, budget, actuals, forecast and variances. It gives a view of the outcome in terms of cost, revenue and margin then allows drill-down to the detail for instant analysis of the underlying information.
Be flexible and offer choice of sales application formats – Create applications at line-level without the need for spreadsheets, produce valuation schedules to give the cash-flow expected from each client. Using the flexibility built into 4PS, you choose from multiple subcontractor payment options including self-billing, tax invoices or submitted timesheets. These can be adjusted to suit each subcontractor and each project accordingly. If a supplier would like to be paid within a certain timeline, ensure that a commercial discussion takes place. The supplier would need to therefore also be contractually obliged to meet shorter payment terms with their subcontractors.
Think about the bottom of the chain – businesses need to differentiate between large and micro businesses. The micro ones may be much more dependent on the pending transaction and they are an equally important element of the supply chain.
Track the financial health of the businesses you are involved with and watch out for deteriorating payment terms
Late payment certainly is not a good business practice. However, it happens all the time, it slows businesses down and causes disruptions to the very competitive construction industry.
Getting the right result comes from making good decisions early.
Now could be an ideal time to look at a fully integrated end-to-end business management system, that is developed specifically for construction businesses.