 Webinars
Webinar recording: How do you choose the right ERP?
Watch this webinar for a customer-led presentation with tips and tricks on how to pick the right software, optimise your processes and realise benefits for your business.
Lessons learnt about ERP implementation
What creates the need for adopting a new ERP solution and how do you know you have picked the right one for your business? Is there anything that you need to be prepared for during the implementation process? How can you realise the benefits of your chosen solution?
Watch this presentation by Paul Lloyd, Head of Digital at Altrad Services UK to learn about the digital journey of the global industry leader. This is customer presentation focused on lessons learnt when deploying ERP as a part of group-wide Digital Transformation Strategy. Paul Lloyd talks about their ERP experiences – from how the selection went, through to the implementation, benefits realised and plans for the future.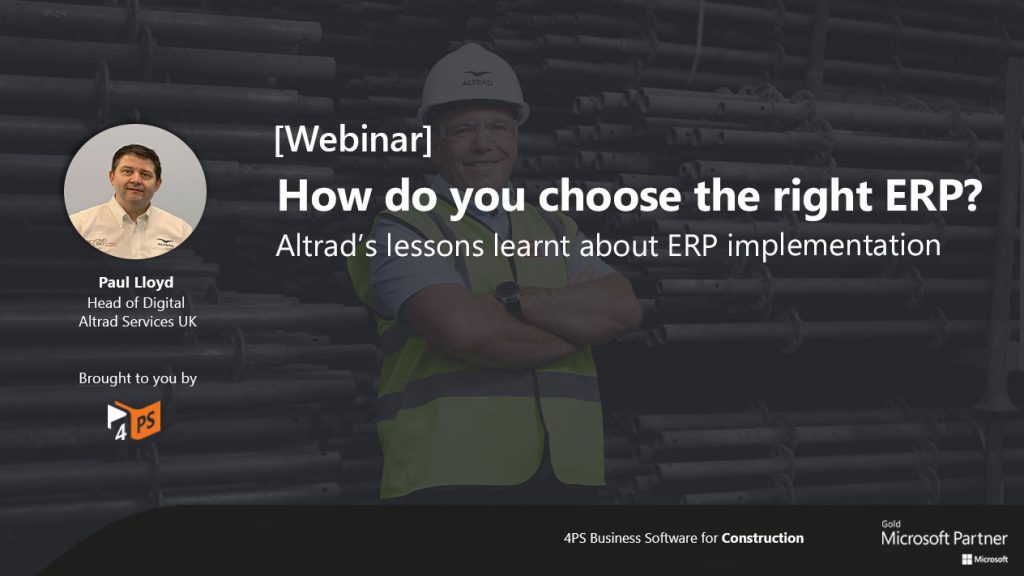 Suitable for: Construction industry business leaders
Type of event: Online event
Are you interested? Get a recording here
Why is it useful for you?
See what you need to look out for when choosing your ERP partner;
Find out how to approach digitisation so you can reach your business objectives;
Hear a real-life story from one of the industry leaders about the benefits of an end-to-end solution for overall business management