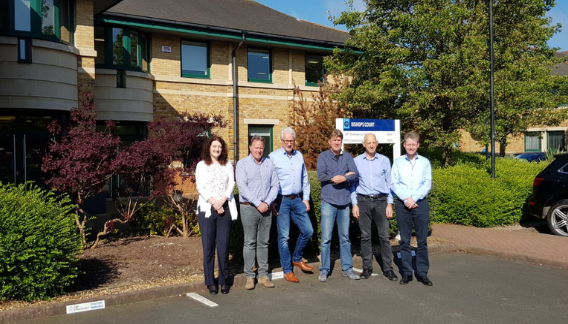 4PS UK holds its Open Day on 20th June to mark the official move to their new office.
New office location
We are thrilled to announce that we have now moved from our Coleshill location where we have been since 1998 to our new office in the Birmingham Business Park.
The relocation is a result of the company's recent growth over the last 12 months reflected in the rise in the numbers of both clients and employees.
How we got here
In 2017 the global company 4PS acquired Metaphorix which officially rebranded in mid-2018. Since then it has been known as 4PS UK and has been growing steadily on the UK market consistently delivering software solutions and empowering the construction industry to improve profitability and efficiency through end-to-end integrated system based on Microsoft Dynamics.
Built for the industry
4PS Construct optimises business processes and workflows and brings efficiencies to both small and large construction companies. Whether they have no or separate systems for each department or are international and implementing one ERP system in multiple countries, they are happy to talk about their journey and experience with 4PS.
Culmination of the last year 
Managing Director Ian Cowan comments: "We are extremely excited to announce the opening of our new office. Our relocation to 6220 Bishops Court building in the Birmingham Business Park is the culmination of the last year. 4PS UK is getting more recognisable every day and a growing number of construction companies already understand the need and the benefits of digitising their business through the end-to-end business software 4PS Construct. We are growing and we are very excited that we are able to share the news with you. Not only did we move to a new office and launch a new website but our team also grew by 10 new people since January 2019! We are happy to welcome on board experienced professionals who joined the Project Management, Support, Sales, Development and Consultant teams!  We have quite simply outgrown our old office premises and our move is a reflection of our progressive development and strengthening our presence on the market. It will be a pleasure to meet existing customers, friends and partners on our Open Day on 20th June".
Who are we?
4PS is a leader in providing end-to-end digital solutions built on Microsoft Dynamics and specifically tailored for the construction industry.  4PS Construct is a fully integrated ERP solution that gives a real-time view at every stage of a project. Monitor margins, forecast outcomes, control resources and plan effectively – take control of everything that affects project profitability. With digital document flows and powerful standard dashboards from PowerBI, construction businesses gain greater insight into projects, allowing them to intervene early to ensure project profitability. Because of our integration with both the Dynamics 365 product set and Microsoft as an organisation, 4PS offers the best possible support for the system, both during and post-implementation.