 Webinars
Get a recording of 'Automate manual processes in construction' webinar
Learn how to build your own apps quickly and easily with Power Apps
Whether it's construction site workers who fill out paper forms on-site or it is the back-office transferring data, the admin burden in construction businesses is enormous. Manual processes slow your business down compromising project delivery and affecting cashflow. What if you could create your own app to automate and streamline your manual processes?
Watch this webinar and see how you can design your own app through Power Apps.
Get started with Microsoft Power Apps
In the construction industry, you probably follow a number of manual processes that could be faster and more efficient. Think about filling out paper holiday request forms. This takes a lot of time because an employee in the office must then enter all holiday records into the system. With Power Apps in the Microsoft Power Platform, you can automate this process. Simply create an app and let your employees enter their holiday registrations digitally. Thanks to the link with your ERP system, this data is automatically processed and no one needs to enter it into the ERP again!
Join us for this webinar on 23rd September and we will show you how you can easily build your own app without programming knowledge.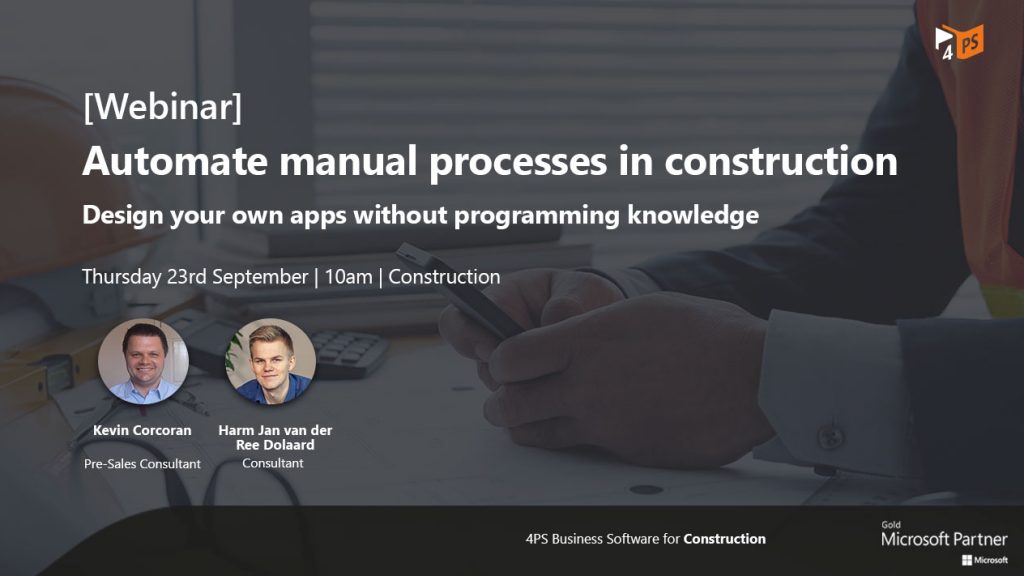 Suitable for: Construction business leaders
Type of event: Webinar
Interested? Watch the webinar here
Why is it useful for me?
Gain knowledge of the digital possibilities for the construction industry;
Get insight into the possibilities of Microsoft Power Apps and the added value for your company;
See how you can build your own Power App
Sounds interesting? Get a recording of the webinar here!