 Blogs
Looking back at 2021 for the construction industry
With the end of 2021 quickly approaching, it is the perfect time to reflect on the past year. Which were the hot topics everyone talked about? We list 5 highlights of the past year.
Here's a look at 5 construction industry highlights for 2021:
1. Importance of full and real-time visibility
What became evident in the past year is that now construction businesses need more than ever accurate and up-to-date reports to rely on and make informed decision for the future of their operations. This turned out to be the key to carefully control costs, review predicted margins, and forecast short to mid and long term financial risks due to COVID-19. These are important in everyday operation, but even more so in times of uncertainty when stopping operations means violating contractual obligations and potential penalties for project delays. Business leaders need to be able to trust and rely on a single source of truth that involves input from all departments across the business.
2. High material costs
The rising material costs turned out to be another area of concern in 2021. The prices of timber, steel and insulation materials skyrocketed. Due to the raw material costs, even more pressure was applied on the already low margins in the construction industry.
3. Rising staff shortages
It is essential to have the right talent by your side to be able to optimise productivity and maximise margins. However, the rising shortage of skilled workers is turning into a bigger problem for many construction companies. According to a KPMG report, some 44% of businesses struggle to attract qualified construction workers, while 45% are short on planners and project managers.
4. Sustainable construction
Sustainability has been a hot topic for the construction sector over the last couple of years. By better utilisation of natural resources and reuse of materials, construction companies are doing their bit. Sustainable construction equates to benefiting from renewable and recyclable materials while using less energy and avoiding wastage during this process. Straw bales or bamboo are being adopted as viable alternatives to concrete. Introducing heating and lighting controls, better glazing and insulation play a big role too.
5. Focus on digitisation
A growing number of construction businesses recognise the importance of digital tools. With an ERP system, for instance, organisations in the industry can manage and automate all business processes. Furthermore, cloud software is turning into a preferred option allowing for better flexibility and security of the solution and data.
At 4PS, we also see an increase in construction businesses opting for software in the cloud. We hope that in 2022 we can help many more companies with their transition the future-proof platform 4PS Construct Business Central! Would you like to know more about our ERP software and possibilities? Download our brochure.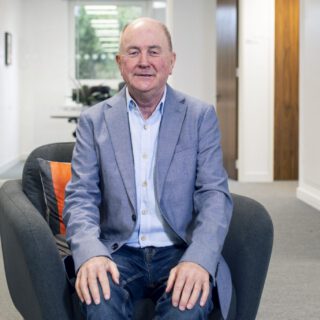 Paul Broderick | Paul has developed a keen eye for seeing specific customer requirements and recommending solutions to deliver business benefits and returns-on-investment. In the last three years Paul has focused this experience and knowledge specifically on the Construction industry, where digitisation is now the hot topic in IT, which has evolved and matured to become most relevant in today's construction industry.