In the most recent Future of Construction Report (by Raconteur), Altrad emphasises that 'for too long the construction industry has relied on paper systems in the delivery of work in hazardous environments. Failing to invest in digitisation can prolong planned schedules, lead to the late completion of builds, and eat into productivity and the bottom line'.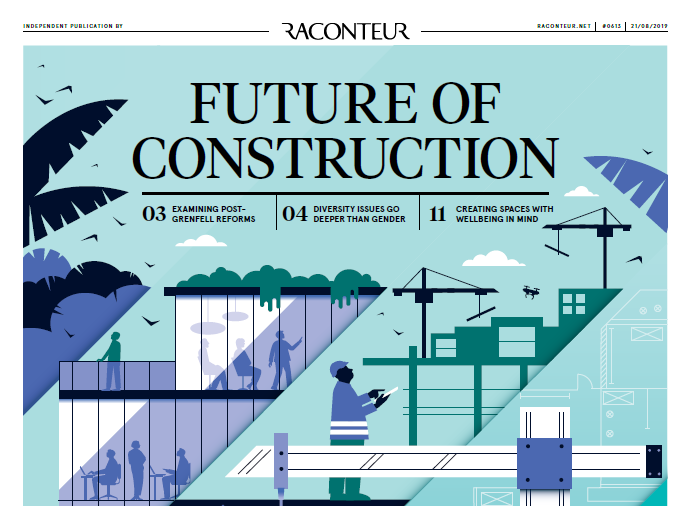 We are delighted to be part of the digital journey Altrad Services UK have taken on. The solution 4PS Construct provides Altrad with total visibility of site-based activities at their various stages. In addition, it means that the back-office teams can receive and monitor data in real time throughout the platform.
About Altrad 
Altrad Services provide a multi‑disciplinary service offering including the traditional services of access, insulation, engineering and specialist coatings and fireproofing, and a range of specialist services including environmental services, heat exchanger replacement and refurbishment, storage tanks and refractory linings.
Altrad Services UK has been created by merging Cape, Hertel and NSG. By bringing the best of these three companies together we have created the largest industrial maintenance provider in the UK, employing 6,500 people, operating across many sectors including oil & gas, power generation, petrochemical, nuclear and infrastructure.
The acquisition and integration of Hertel, Cape and NSG proved to be a great time for Altrad to think about building its digital future in a cohesive strategy and with the right digital suite for meeting their strategic goals.
How the journey started 
Altrad approached 4PS UK in 2018 with desire to embrace a group-wide digital strategy focussed on efficiency improvements and preparation for continued growth. Altrad requested and later implemented a wide range of 4PS modules across the business to give full visibility on progress at all stages of construction and service projects.
In addition to this, Altrad aimed at not only getting all the information in one system but also improving the way they read and analyse the powerful data. 4PS tackled this request by implementing multiple reporting tools such as Microsoft Power BI.  In addition, the investment in the 4PS OCR document management module replaces an enormously costly and inefficient manual process with automatic scanning and filing capability.
The key area of 4PS that appealed to Altrad as an equipment provider is our plant module, which makes the whole process of ordering, transporting and tracking plant items far simpler and more efficient, and provides full visibility across storage and site locations.
On completion of the project, we move into "Support" mode, providing a full helpdesk and account management service.  4PS operates continuous innovation in the product which is fed back into the customer base.  This means that Altrad will always be able to benefit from the latest technologies such as BIM, AI, Internet of Things and Virtual/Augmented Reality.
Thus, 4PS allows Altrad to streamline the company processes, from estimating through to project management and contract cost control and full financials.  The solution includes subcontractor insurances and CIS & HMRC management, which is another essential element with the new reverse charge VAT regulations.
"Construction is one of the last industries to embrace digital transformation, so it is encouraging that companies like Altrad have the vision to digitalise to achieve margins seen in other industries, but still improve customer happiness", adds Ian Cowan, Managing Director at 4PS UK.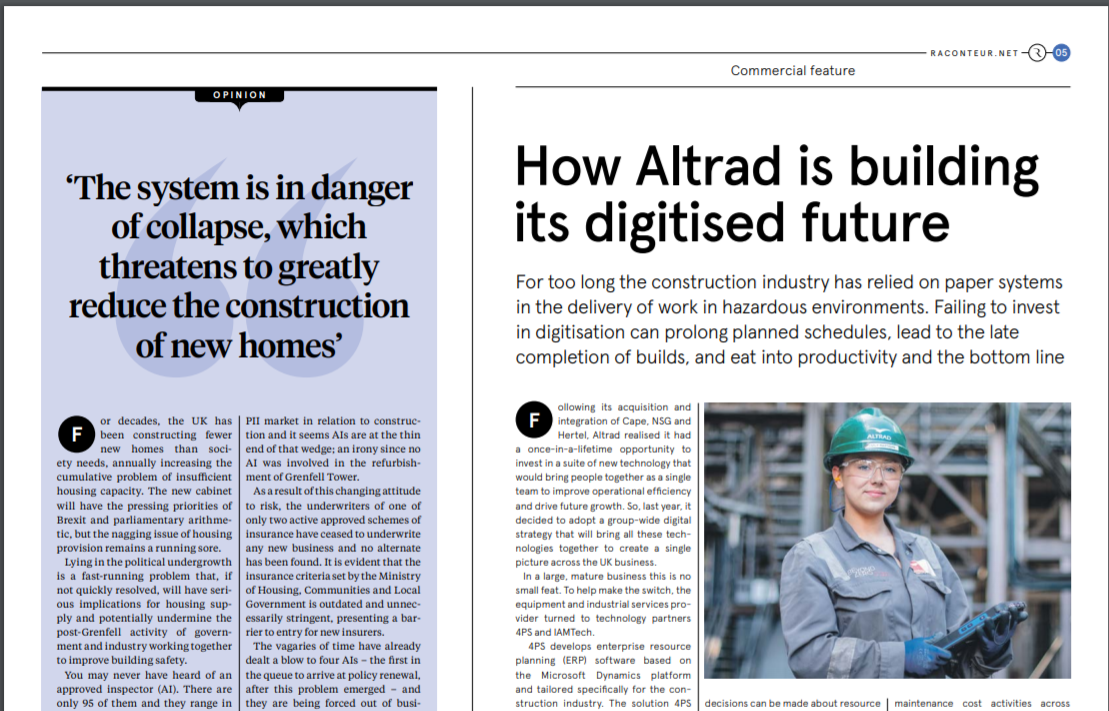 How does digitisation make it easier for service and equipment providers like Altrad to capture and analyse data and share it with other project stakeholders?
As data is captured at the beginning of the project or contract, this information can then be re-used throughout the process.  For example, data from the approved estimate/tender can be used to form the project budget, then again for procurement, cost control and forecasting, and ultimately invoicing", elaborates Mark Egan, Lead Sales Consultant at 4PS UK.  This improves accuracy and reduces expensive errors.  The 4PS Approvals process means that a request can be received and approved from a mobile device, leading to a continuous flow of data, and ultimately improved service to the client.
As all the data is live, and is shared amongst all authorised stakeholders, including mobile and remote workers, decisions can be made instantly to maintain targeted margins and planning schedules.  With the accurate and instantly accessible data that 4PS provides, decisions can be made immediately to the benefit of all stakeholders.
What positive impact does 4PS Construct have on project delivery and construction schedules as a result? 
A common problem in the industry is that plant is often still charged for long after it was used on site, which means accumulated daily charges.  With 4PS, site managers can update the system when plant is finished with, ensuring it can be set to off-hire and halt charges immediately.
The Altrad plant manager was keen to keep track of live locations of particular plant items across multiple nationwide sites.  With the graphical data we provided on a map in Power BI, this vastly reduced the cost of transporting plant, as they now ship the item from the site closest to the one at which it is needed.
Ultimately, accurate data means "One version of the truth", which is something all our clients seek.  Avoiding the proliferation of (multiple versions of) spreadsheets or documents in different departments is key!  Directors and managers can view powerful graphical data via Microsoft Power BI on a phone or tablet – quick, simple and live. They can then take appropriate action in real time. This eliminates bottlenecks which can cause site delays and additional cost.
"With this accurate and instantly accessible information, decisions can now be made immediately to the benefit of all stakeholders. Our people can take appropriate actions without hesitation, eliminating the risk of bottlenecks which can cause both on and off-site delays, and lead to rising costs. All this allows our teams time to focus on efficient and timely delivery, making full use of their skills without the frustrating administration delays," says Tony Jester, managing director of Altrad Service's maintenance, modifications and overhauls division.
Ultimately, introducing a more agile and efficient working environment and using a modern interface from any device means more engaged employees and happier clients.
Interested in what digital transformation with 4PS Construct could do for your business – book your demo today.