 News
Construction software provider 4PS expands to Germany
Birmingham, 3rd of February – 4PS, end-to-end software solution provider for the construction industry, continues its international growth by opening an office in Ulm, Germany. As 4PS Bausoftware GmbH, 4PS is strengthening its presence in the German market where a dedicated team of experienced experts will advise construction business leaders on efficiency gains in the industry.
With the expansion to Germany, 4PS Group continues to grow internationally. 4PS can provide the local construction industry with an integrated software solution (ERP) to support primary business processes. Wim Jansen, Partner at 4PS Group, says: "We are delighted to expand 4PS Group into Germany. It is an important next step in our international growth. We are proud to have Oliver Couvigny and Tobias Fenster as our two experts in this field, and we are confident that we have laid the foundation for a successful market entry."
Achieving customer happiness in the German construction market
Oliver Couvigny and Tobias Fenster, co-managing partners of 4PS Bausoftware GmbH, are excited to be representing 4PS in Germany and bringing efficiencies to the local construction industry. Oliver says: "During my career in IT companies such as Axians Infoma, Axians Deutschland and most recently the Wilken Software Group, which now stretches back decades, I repeatedly came into contact with the 4PS founders. The idea about bringing 4PS to Germany was born many years ago. Now it is coming to fruition and we can't wait to introduce 4PS in the German construction market and continue its international success story: achieve customer happiness by using an outstanding product and getting support by an awesome team."
Tobias adds: "With the focus on cloud-based, and especially Software-as-a-Service (SaaS) ERP solutions in different vertical markets in the last years, I am happy to offer a perfect opportunity for construction companies interested in digitising their processes and business. With our additional portals, apps, IoT solutions and more, all integrated with the comprehensive Microsoft platform, we are sure to meet market demands and help customers to become digital leaders in their segments. From a company perspective, we are in a unique situation. We can act with the flexibility of a fast-moving start-up, but we have the stability of the successful 4PS Group."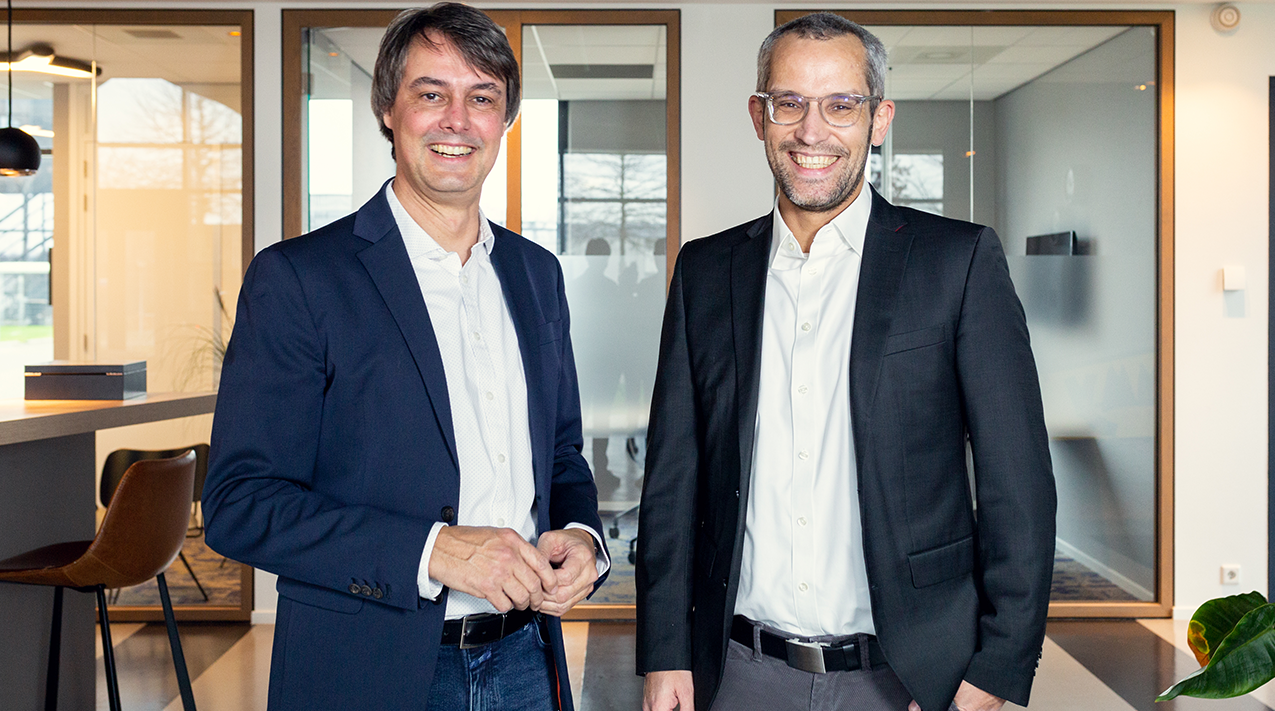 Left to right: Oliver Couvigny and Tobias Fenster
About the managing partners
Oliver Couvigny has been working in the Business Central ecosystem for over 20 years. He started his career as a consultant for German independent software vendor (ISV) Axians Infoma in times of Navision for DOS, becoming the General Manager in 2007. With Infoma as starting point he expanded the Business Area Public Software at Axians Germany in 2014 as Managing Director through organic and external growth. Axians Germany developed into a company group of ISVs in DACH with a focus on different verticals in the Public Sector. In 2021 he started as General Manager at Wilken Software Group. In 2022 Oliver decided to follow his heart, bringing the long-term idea to innovate the German speaking construction market to life with 4PS solutions.
Tobias has been in the Business Central world for 10 years after starting his career as a developer with different technologies. He held various Business Central focused roles including technical consultant and head of development for the German ISV Axians Infoma before becoming Chief of Technology for the international Microsoft partner COSMO CONSULT in 2019. Tobias will focus on the technology part within 4PS Germany. He holds dual Microsoft MVP awards for Business Central and Azure and he is also a Microsoft Regional Director.
About 4PS
As a market leader, 4PS has been developing, implementing and maintaining standard software solutions for construction, civil engineering, housebuilding, mechanical and electrical, service and maintenance and plant industry for over 20 years. With more than 300 professionals, we work daily on applications that improve efficiency for more than 450 customers around the world. 4PS has offices in Birmingham (UK), Ede (NL), Ghent and Hasselt (Belgium) and now also in Ulm (Germany).
Digitisation is in simplicity
The standardised software 4PS Construct runs on the most user-friendly and modern platform of the moment: Microsoft Dynamics 365 Business Central. With portals, planning tools and apps, the 4PS software supports the primary business processes in preparation, execution and aftercare. You can find more information about the integrated software solution of 4PS here.